Grilled Jamaican Jerk Chicken With Speecy Spicy Sauce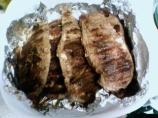 Photo by Indigo!
Prep Time: 20 mins
Total Time: 40 mins
Serves: 10-12, Yield: 12.0 breasts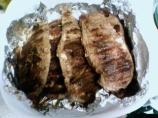 Photo by Indigo!
About This Recipe
"I had jerk chicken for the first time from a restaurant called "Flames" here in Boston, and, as is seemingly my mission nowadays, I wanted to find a way to make it at home. This is a recipe I've tweaked to my own personal tastes, but be warned, it is very VERY speecy spicy! So you may want to have some rice or fruit nearby to quench the FLAMES! I used my little Foreman grill, and the chicken turned out perfectly!"
Ingredients
For chicken

6 tablespoons olive oil

5 habaneros, chopped (wear gloves or be careful not to touch your eyes, very painful!) or 5 scotch bonnet peppers, with seeds, chopped ( wear gloves or be careful not to touch your eyes, very painful!)

2 scallions, green and white parts, chopped

1/4 cup dried thyme

1 tablespoon dry mustard

1/2 cup malt vinegar

4 garlic cloves, peeled, chopped

4 teaspoons ground allspice

2 teaspoons ground nutmeg

1 tablespoon kosher salt

1 tablespoon fresh ground black pepper

3 tablespoons dark rum

2 tablespoons water

12 skin-on boneless chicken breasts

For sauce

1 cup ketchup

3 tablespoons soy sauce
Directions
Boil rum and 2 tablespoons water in small saucepan for 3 minutes.

Transfer rum mixture to blender; add oil, chiles, scallions, thyme, dry mustard, vinegar, garlic, allspice, nutmeg, salt, and pepper, blend until smooth.

Transfer 2 tablespoons jerk seasoning to small bowl; mix in ketchup and soy sauce to make sauce.

Arrange chicken in large glass baking dish and coat on all sides with paste. Cover and refrigerate at least 1 hour and up to 4 hours.

Arrange chicken breasts on grill, skin sides down. Grill, turning once, until cooked through, about 7 to 9 minutes per side. (On Foreman grill, just do 8-9 minutes.) Transfer breasts to platter with rice or other accompaniment. Serve with hot sauce on side.