Empress - Cincinnati Chili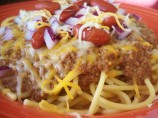 Photo by *Parsley*
Prep Time: 30 mins
Total Time: 4 hrs 30 mins
Servings: 6-8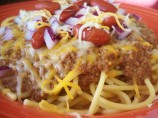 Photo by *Parsley*
About This Recipe
"This recipe was given to my better half, from his Uncle Dave, over 35 years ago. It has been a huge hit with our family & guests! NOTE: with all spices it is best to use a well rounds measure Get all the toppings lined up and let your guests create their own tasty chili. Freezes well if there are any leftovers."
Ingredients
8 cups water

2 lbs lean ground beef

4 medium onions, chopped fine, in a food processor

2 garlic cloves, minced

2 (8 ounce) cans tomato sauce

1 1/2 teaspoons white vinegar

1/4 teaspoon ground cayenne pepper

3 small dried chilies, whole

1 teaspoon allspice

1 teaspoon ground cinnamon

1 teaspoon ground cumin

2 tablespoons chili powder

2 dashes Worcestershire sauce

5 -6 bay leaves, whole

2 teaspoons salt ( not optional)

1 1/4 teaspoons ground pepper

Notes

One way chili

Two way chili

Three way chili

Four way chili

Five way chili
Directions
NOTES: All seasonings/ spices should be measured using rounded t/T for a full flavor. You may want to use a level measure of cayenne. It packs heat!

DO NOT BROWN THE BEEF.

Add 8C of water to deep stock pot.

Using your hands, add the raw ground beef and break up the raw beef as you add it to the water.

Add all other ingredients and bring to a boil. NOTE: remove the lid of the pot or tip it so the steam can escape.

Simmer for several (4) hours or more to reduce the amount of the liquid. Stir often. Reduce until the chili is thick.

When desired consistency is achieved: remove bay leaves and whole peppers.

Served 5 ways! Add your favorite toppings as suggested above.