One Shot Smokin', Huntin' and Fishin' Outdoor Cookin' Sauce!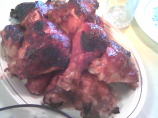 Photo by Debber
Prep Time: 10 mins
Total Time: 30 mins
Serves: 4-6, Yield: 1.0 Complete Serving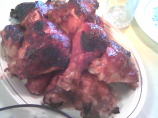 Photo by Debber
About This Recipe
"The "One Shot" is a generous slug of Bourbon whiskey, (My husband's favourite tipple after Scotch Whisky!) which I think really gives this sauce a lovely mellow feel to it. The "Smokin'" comes from the addition of liquid smoke and chipotle peppers, and the rest of the title tells you this is GREAT if used whilst cooking meat, poultry, sausages or fish OUTDOORS, preferably over wood or coals! I devised this barbecue/marinade sauce some time ago, and I have decided to post it now, in order to enter the Grilling and Barbecue Forum's BBQ sauce contest! I hope you enjoy this as much as we do - happy OUTDOOR cookin'!! N.B. Quantities listed fill a large jam jar, about 20 fluid ounces - you can cut back on the ingredients to suit your requirements, but it does keep very well in the fridge."
Ingredients
1 (14 ounce) bottles tomato ketchup

1/2 cup bourbon whiskey

2 -3 teaspoons liquid smoke flavoring or 2 -3 teaspoons mesquite liquid smoke flavoring

3 tablespoons brown sugar

2 tablespoons peach jam or 2 tablespoons apricot jam

4 -6 canned chipotle chiles in adobo, finely chopped

4 tablespoons Worcestershire sauce

3 teaspoons dry English-style mustard

2 teaspoons celery seeds

2 teaspoons ground cumin

2 teaspoons garlic granules or 2 -3 garlic cloves, peeled and crushed

4 tablespoons oil, such as sunflower oil or 4 tablespoons light olive oil

1/2-1 teaspoon cayenne pepper, to taste

salt & pepper, to taste
Directions
Combine all the ingredients in a saucepan & cook over a low to medium for 10 to 15 minutes, until everything is dissolved and the sauce is smooth.

Either combine this sauce in your recipe, as a marinade or as an ingredient addition, or serve on the side, with your choice of meat, fish, ribs or poultry.

Great in all types of hot sandwiches, ribs and pulled pork or barbeque brisket sandwich rolls!

Serve warm or at room temperature.

Store in a clean jam jar or bottle for up to 2 weeks in the fridge after and before use.