Macaroni and Cheese With Garlic Breadcrumbs, Plain and Chipotle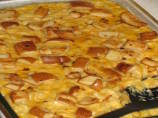 Photo by Shelby Jo
Prep Time: 20 mins
Total Time: 50 mins
Servings: 8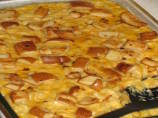 Photo by Shelby Jo
About This Recipe
"I make this mac and cheese for large gatherings because it can be made 2 days in advance. Everyone loves it. I usually make half plain for the kids, and half with chipotles for the adults. Any tubular pasta will work and I often 'clean out the fridge' and add any other cheeses that I may have on hand."
Ingredients
For Bread Crumbs

2 tablespoons unsalted butter

2 tablespoons olive oil

2 large garlic cloves, finely chopped

2 cups fresh breadcrumbs, coarsely chopped

For Macaroni

3 tablespoons chipotle chiles in adobo, chopped

1/4 cup unsalted butter

1/2 cup all-purpose flour

3 cups whole milk

2 cups heavy cream

1 tablespoon dry mustard

1 lb macaroni

2 lbs cheddar cheese, grated
Directions
Make bread crumbs:.

Heat butter and oil in a 10-inch heavy skillet over moderate heat until foam subsides, then cook garlic and bread crumbs, stirring, until crumbs are golden.

Transfer to paper towels to drain and season with salt.

Make macaroni:.

Preheat oven to 350°F

Chop chipotles.

Melt butter in a 3- to 4-quart saucepan over moderate heat, then add flour and cook, whisking, 1 minute.

Gradually whisk in milk, cream, and mustard and simmer, whisking occasionally, 3 minutes.

Cook macaroni in a 6- to 7-quart pot of boiling salted water until just tender.

Drain in a colander and transfer to a large bowl.

Stir in white sauce, cheese, and salt to taste.

Fill a 1 1/2-quart shallow casserole with half of macaroni mixture.

Stir chipotles into remaining macaroni.

Spoon into another 1 1/2-quart shallow casserole and sprinkle both with bread crumbs.

Bake casseroles in middle of oven 30 minutes, or until bubbly.

Note:.

Macaroni and cheese may be made 2 days ahead, put into casseroles, cooled completely, and chilled, covered.

Do not add bread crumbs until ready to bake. (Baking may take longer than 30 minutes.)

Serves 8 adults plus 10 children as part of a buffet.