Nan's Potato, Pepper and Onion Frittata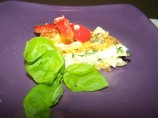 Photo by Dona England
Prep Time: 20 mins
Total Time: 20 mins
Servings: 4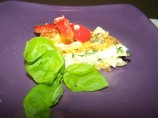 Photo by Dona England
About This Recipe
"From foodblogga.com blog. Reminds me of Laurie Colwin's frittata but I can't find the book right now. This is dinner when I don't want to go to the store. Add whatever you have in the fridge, bacon, ham, zucchini."
Ingredients
29.58 ml olive oil

1 small potato, diced

1 small onions or 1 small shallot, diced

1 bell pepper, thinly sliced

5 eggs

59.14 ml fresh basil, thinly sliced

59.14 ml fresh parsley, chopped

236.59 ml grated parmesan cheese

0.75-1.0 ml crushed red pepper flakes

0.25 ml salt
Directions
Over mediuim low heat, add olive oil to an 8 inch non stick skillet, add potatoes, and saute until golden brown, about 5-7 minutes.

Add onions, cook 2-3 minutes.

Add bell pepper strics, cook 2-3 minutes.

Meanwhile, beat the eggs in a small bowl, add fresh basil, parsley, cheese, salt and red pepper.

Pour the egg mixture into the skillet.

With a fork, gently move the egg mixture from side to side as it begins to cook to ensure that is cooks even around the edge.

This takes about 5 minutes.

Give the pan handle a jiggle and when the egg appear set, remove the pan fromt the stovetop and place under broiler.

Broil 3-4 minutes until the top begins to puff up and turn golden brown.

Watch closely.

Remove from oven let cook a couple minutes.

Enjoy!