A British Classic - Pan Yan Pickle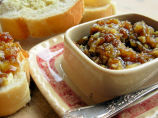 Photo by French Tart
Prep Time: 15 mins
Total Time: 336 hrs 15 mins
Yield: 7 half pound jars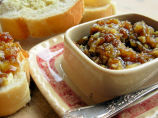 Photo by French Tart
About This Recipe
"A classic British No-Cook pickle for your sandwiches and cheese board! Remember Pan Yan pickle? It was a firm favourite in our home and my dad loved it slathered on top of cheese on toast! Now sadly discontinued, this fabulous British pickle with the catchy name is easy to make! I have fiddled around and recreated this recipe, and I am delighted with the results even though I say so myself. Lighter and with more "tang" then Branston pickle, I love it in sandwiches. Adjust the curry powder to your own tastes."
Ingredients
1 lb bramley apple, peeled, cored and minced

1 lb dates, minced

1 lb sultana, minced

3/4 pint malt vinegar

1 lb soft brown sugar

2 -3 teaspoons Madras curry powder

salt and pepper
Directions
Stir all the ingredients together and leave for 24 hours.

Put in clean and sterilised jars.

Tastes better after 2 weeks storage in a cool dry place and makes about 7 x 1/2 lb jars.