Thai Seafood Curry over Coconut Jasmine Rice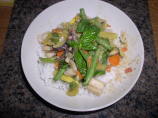 Photo by Loveof6
Prep Time: 30 mins
Total Time: 40 mins
Servings: 4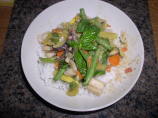 Photo by Loveof6
About This Recipe
"This is a simple and fairly authentic tasting curry. If you aren't able to get grouper or prefer a less expensive alternative, you may substitute halibut, haddock, tilapia, or other firm white fish."
Ingredients
2 tablespoons olive oil

1 tablespoon toasted sesame oil

2 garlic cloves, minced

3 tablespoons mae ploy green curry paste ( to taste)

1/2 lb shrimp, peeled & deveined ( I prefer 16-20s so they are not overdone)

1/2 lb scallops ( either sea or bay scallops will work, but I prefer sea)

1/2 lb grouper, cut in bite size pieces

1 cup light coconut milk ( about 1/2 can)

2 tablespoons fish sauce ( AKA Nam Pla)

1 medium red pepper, cut in thin strips

10 snake beans, cut in 2-3-inch pieces or 1/2 lb green beans, trimmed

2 medium carrots, sliced into flowers ( see below for instructions)

1 stalk lemongrass, cut in 1-inch pieces

1/2 cup basil leaves

1 1/2 cups jasmine rice

1 1/2 cups water

3/4 cup light coconut milk
Directions
To cut carrot flowers, peel or scrub carrots and cut into 4 inch lengths.

Using a very sharp knife cut a small V out of the side by placing the sharp edge of the knife down the length of the carrot piece, twice.

Repeat this 3-4 times per carrot piece.

Slice into 1/4-1/2" thick 'flowers' to finish.

In a saucepan with glass lid, combine 1 1/2 cup water, 3/4 cup coconut milk, and rice.

Cover and bring just to a boil; immediately reduce heat to lowest setting and cook for 15 minutes or until all liquid is absorbed.

Do not remove lid or stir while cooking.

Heat the oils in a wok or large skillet over medium high heat.

Add the garlic and curry paste and saute until fragrant (about 3 minutes).

Add the shrimp, scallops, and fish; saute for 3-5 minutes until shrimp is almost done.

Add the vegetables (beans, carrots, peppers, lemongrass) and cook for 1 minute.

Add all remaining ingredients and simmer covered for 3-5 minutes.

Remove lemongrass and serve over jasmine coconut rice.