Delicious Big Bowl - Quinoa Recipe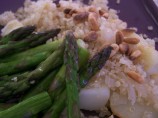 Photo by Dona England
Prep Time: 30 mins
Total Time: 30 mins
Servings: 4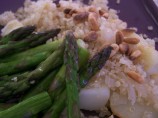 Photo by Dona England
About This Recipe
"This is from Super Natural Cooking by Heidi Swanson. I love to make this on the week end and take leftovers for lunch. I often substitute pine nuts for walnuts. Her recipes are at www.101cookbooks.com"
Ingredients
2 cups white quinoa, rinsed well

4 cups water

1 teaspoon salt

1 tablespoon olive oil

3 medium potatoes, cut into 1/2 inch dice

1 large onion, chopped

1 garlic clove, chopped

1 cup toasted walnuts

2 cups lightly steamed asparagus, cut into 1/2 inch segments

2 tablespoons olive oil
Directions
Bring the quinoa, water and walt to a boil in a large heavy bottomed pot. Reduce heat and simmer for about 20 minutes. If there is any liquid left in the pan, drain if off.

Warm a splash of olive oil in a skillet over medium high heat, then add the potatoes and a couple pinches of salt. Toss to coat the potatoes and cover for a few minutes to allow the potatoes to sweat and cook. Uncover the pan, toss aga, then cook a few minutes longer uncovered, until the potatoes start to get some color. Continue tossing every few minutes to get color and crispness.

Whenthey are cooked through and pleasantly crunch, season to taste with salt and scoop out onto a plate.

Set aside.

In the same skilled warm another splash of oil.

Add the onions and garlic and cook 4-5 minutes.

Toss the quinoa with a splash of olive oil.

Combine quinoa, potatoes, onions, nuts and asparagus.