Blue Heaven Banana Pancakes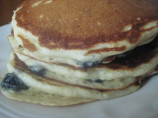 Photo by Tropical Texan
Prep Time: 15 mins
Total Time: 30 mins
Serves: 2-3, Yield: 8.0 4-5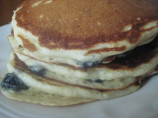 Photo by Tropical Texan
About This Recipe
"This is my version of the banana pancakes from Blue Heaven in Key West, FL. I've eaten there so many times and miss their delicious pancakes. It's not their exact recipe, obviously, but I think I got the flavor and texture almost exactly right!"
Ingredients
3/4 cup whole milk

1 egg, beaten

2 medium very ripe bananas

2 tablespoons oil or 2 tablespoons melted butter

1 cup all-purpose flour

1 tablespoon sugar

1 tablespoon light brown sugar

1 tablespoon baking powder

1/2 teaspoon salt

1/2 teaspoon cinnamon

2 teaspoons vanilla

1/8 teaspoon nutmeg

chopped walnuts (I like to toast them first) (optional) or pecans ( I like to toast them first) (optional)

Syrup

1 cup maple syrup or 1 cup cane syrup, heated

1/2 teaspoon cinnamon

1 dash nutmeg

1 teaspoon brown sugar

1 tablespoon unsalted butter, melted
Directions
Beat egg until fluffy. Add milk and oil/melted butter. Add vanilla.

In another bowl, combine all dry ingredients.

Take bananas out of skin and cut into very small pieces (1/2"). They do not have to be perfect, and do not worry about then getting a bit "mashed".

Add dry ingredients gradually to egg mixture.

Add cut bananas (and toasted nuts, optional).

In a non-stick 8-10" skillet, heat pan to medium. Pan is ready when water dances on surface.

Pour batter in pan using ladle or pitcher, forming a pancake approx 4-5" wide.

When the edges start looking a little "matte" and the pancake is bubbly, flip. When you see steam start "wisping" from the edges of the pancake, it is done.

Top with syrup (mix ingredients above and heat in microwave for 30-45 seconds), whipped cream, or more bananas and nuts.