Coffee-Marinated Grilled Pork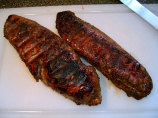 Photo by Mikekey
Prep Time: 10 mins
Total Time: 35 mins
Servings: 6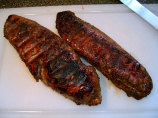 Photo by Mikekey
About This Recipe
"Printed in Good Food Magazine. Recipe from '333 Belrose Bar & Grill' in Wayne, PA. This flavorful dish has a rich coffee flavor with hints of sweet molasses and spicy chili. Begin marinating the pork one or two days ahead for best results. The mirin can be found in the Asian foods section of some supermarkets or at Japanese markets. Marinating time is NOT included in prep time."
Ingredients
Marinade

1/2 cup freshly ground coffee beans

1/2 cup vegetable oil

1/4 cup molasses

1/4 cup macadamia nuts, dry roasted

1/4 cup maple syrup ( the real stuff if possible)

1/4 cup soy sauce

2 garlic cloves

2 tablespoons fresh lime juice

1 tablespoon mirin ( sweet Japanese rice wine)

1 jalapeno chile, coarsely chopped

1 1/2 teaspoons fresh ginger, minced

1 1/2 teaspoons coarse kosher salt

1 1/2 teaspoons ground black pepper

Pork
Directions
Puree all the marinade ingredients in a food processor until almost smooth.

Transfer to a large resealable plastic bag.

Add pork; release excess air, seal bag and turn to coat. Chill 24-48 hours.

Prepare barbecue to a medium heat.

Grill pork about 25 minutes, turning often. (Internal temperature should register 145F.).

Transfer to work surface and let stand 10 minutes.

Thinly slice to serve.