Kittencal's Italian Zucchini-Mozzarella Patties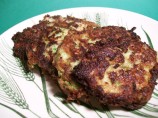 Photo by Sharon123
Prep Time: 1 hr
Total Time: 1 hr 4 mins
Servings: 4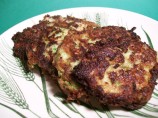 Photo by Sharon123
About This Recipe
"You might find yourself purchasing zucchini in your grocery store all year around just to make these, they are *that* good! --- you will be lucky if these even make it to the table lol! you may also add in some canned corn niblets or some cooked rice, although garlic powder may be used I strongly suggest to use fresh minced garlic, this recipe is very forgiving so don't worry about the the exact measurments--- these are delicious served with sour cream :) also take a look at my Kittencal's Onion Patties/Latkes"
Ingredients
4 cups coarsely grated zucchini, packed ( one thin zucchini about 10-inches in length)

2 large eggs, slightly beaten

1 small onion, finely chopped ( or use green onions)

1/2 cup all-purpose flour

2 -3 teaspoons fresh minced garlic ( or to taste, or use 1/2 teaspoon garlic powder)

1/3-1/2 cup grated parmesan cheese

1 cup shredded mozzarella cheese ( can use cheddar cheese)

1 teaspoon seasoning salt

1 -2 teaspoon fresh coarse ground black pepper ( or to taste)

olive oil ( for frying, or use vegetable or Canola oil)
Directions
Hand squeeze out as much of the moisture in the zucchini as possible (this is important!).

Place the zucchini in a large bowl.

Add in all remaining ingredients except oil.

Mix well to combine and adjust seasoning salt and black pepper to taste.

Heat oil in a skillet over medium-high heat.

Drop the zucchini mixture by heaping tablespoons into hot oil and fry on both sides until golden brown.