Tangy Greek Chicken Soup (Crock Pot or Not)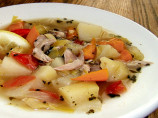 Photo by Kathy228
Prep Time: 15 mins
Total Time: 6 hrs 15 mins
Servings: 3-4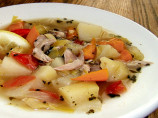 Photo by Kathy228
About This Recipe
"I created this soup with all of our favorite flavors and ingredients in mind. You may omit the vinegar, if you would like it less tart. Cook time includes 6 hours in the crock pot."
Ingredients
2 boneless skinless chicken breasts

3 large potatoes, roughly diced

18 baby carrots, sliced

1 onion, coarsely chopped

3 garlic cloves, minced

1 cup marinated artichoke hearts, drained, coarsely chopped

1 lemon, juice of

2 (15 ounce) cans chicken broth

1 cup white wine

1/4 cup white wine vinegar

2 tablespoons fresh oregano or 1 tablespoon dried oregano

1/8-1/4 teaspoon black pepper

1/8-1/4 teaspoon lemon pepper

1/8-1/4 teaspoon garlic powder

1/8-1/4 teaspoon onion powder

1/8-1/4 teaspoon ground coriander

1/8-1/4 teaspoon sugar
Directions
Place all ingredients in a crock pot. Cook 1 hour on high, then 5 hours on low (or 7 hours on low, if you are not available to switch crock pot from high to low).

If you don't have a crock pot, soup can just as easily be simmered for a long time on the stove, until the chicken is falling apart, about 3 hours.

Before serving, break up chicken into large bite size pieces, and taste for salt.