Crock Pot Italian Wedding Soup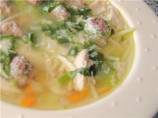 Photo by out of here
Prep Time: 30 mins
Total Time: 8 hrs 30 mins
Servings: 6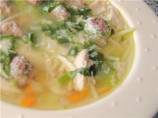 Photo by out of here
About This Recipe
"This takes a little advance preparation, but it is great to come home to after a long day. Pastina and acini di pepe pasta is very small pasta and can be added the last hour or so of the cooking time."
Ingredients
Meatballs

1 lb lean ground beef

1 egg, slightly beaten

1/4 cup breadcrumbs

1/4 cup fresh parsley, chopped

1 teaspoon oregano

1 teaspoon basil

1/2 teaspoon salt

1/2 teaspoon pepper

1/4 cup parmesan cheese, grated

Soup

6 cups chicken stock

1 cup boneless cooked chicken breast ( baked or boiled and chopped into shreds)

1/2 cup onion, finely chopped

1/2 cup carrot, finely chopped

1/2 cup celery, finely chopped

2 cups escarole or 2 cups spinach, torn into small pieces

2 bay leaves

1 1/2 teaspoons garlic powder

1/4 teaspoon fresh ground black pepper

1/4 cup pastina pasta or 1/4 cup acini di pepe pasta

parmesan cheese, for serving
Directions
Meatballs: Preheat oven to 350 degrees.

Mix all ingredients together.

Form into very small balls (I get approximately 90 meatballs from 1 pound ground beef. I bake mine on a nonstick cookie sheet and turn them half-way through the cooking time).

Bake about 10-15 minutes, until the meatballs have browned but are still soft (watch closely).

Remove from oven and drain on paper towel, if necessary.

Soup: Place all of the ingredients, except the pasta and escarole or spinach, into the crock pot with meatballs.

Cook on low for 8 hours (Add pasta and escarole or spinach during the last hour of cooking and salt to taste, if necessary).

Remove bay leaves.

Top each serving with grated parmesan or romano cheese.

Note: The meatballs must be prepared before being put into the crock pot (make them the night before and put them in the refrigerator, or even keep a batch in the freezer. I basically prepare as much as I can in advance so all I have to do is just put it all in the crock pot in the morning).