Strawberries and Cream Scones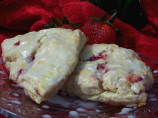 Photo by Marsha D.
Prep Time: 15 mins
Total Time: 40 mins
Servings: 6-7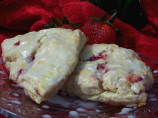 Photo by Marsha D.
About This Recipe
"I've recently started getting into making scones. This is a delicious recipe for them! If you like, add "Recipe#953365" as suggested by reviewer Marsha D."
Ingredients
3/4 cup strawberry, cut into 1/4 inch pieces

2 cups cake flour

3 teaspoons baking powder

1/4 cup sugar

2 teaspoons salt

4 tablespoons unsalted butter

1 tablespoon orange zest

1 cup heavy cream
Directions
Preheat oven to 400°.

Mix flour, baking powder, sugar and salt in a large bowl.

Cut butter into small cubes and blend with a pastry blender until it resembles oatmeal (or small peas, if you don't like oatmeal).

Add the orange zest and strawberries.

Then slowly and gradually add the cream while mixing with a fork.

As soon as the flour starts to come together into a dough, remove from the bowl and form into a ball.

Place on a lightly floured surface and knead gently four or five times.

Then shape with your hands (or a rolling pin) into an 8x10" rectangle.

Cut the rectangle lengthwise into two 4x10" rectangles.

Cut each of those into 6 or 7 triangles and place on an ungreased baking sheet.

Bake for 20-25 minutes until golden brown.

Serve warm with softened butter, jam, creme fraiche or just as they are!