Adobo Mojado - Wet Rub for Meats and Poultry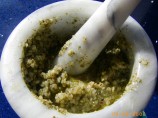 Photo by Susiecat too
Prep Time: 10 mins
Total Time: 10 mins
Yield: 0.5 cup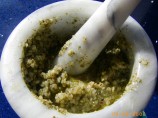 Photo by Susiecat too
About This Recipe
"Wet adobo will keep 5 to 6 days in the refrigerator, which gives you a chance to try it on anything you like from fish fillets and pork chops to turkey cutlets and steaks. This is not shy or subtle but a very _up in your face_ rub."
Ingredients
12 garlic cloves, peeled

22.18 ml fine sea salt or 22.18 ml kosher salt

14.79 ml black peppercorns

29.58 ml dried oregano

29.58 ml olive oil

29.58 ml white wine vinegar
Directions
Pound the garlic cloves and salt to a paste using a mortar and pestle. (The salt keeps the garlic from flying all over the place as you pound them together.).

Add the peppercorns and oregano, pounding well after each to incorporate them into the paste. Come on! Really work out those aggressions! Pound!

Stir in the olive oil and vinegar.

Slather on chicken, steak, chops, etc. then refrigerate for at least an hour. Grill or bake as you prefer.