Frenched Pork Chops in Apple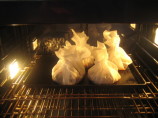 Photo by Chef #457852 - bggio
Prep Time: 10 mins
Total Time: 35 mins
Servings: 6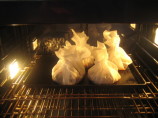 Photo by Chef #457852 - bggio
About This Recipe
"This is a great dinner idea as it is so easy to prepare and the flavors are simple yet very delicately balanced. The pork becomes very tender and the apple becomes like a sauce. great with rice or couscous"
Ingredients
6 pork chops, frenched rib 3/4 inch

3 green granny smith apples, sliced

2 onions, sliced

2 tablespoons fresh thyme, and chopped

1 teaspoon salt

1/4 teaspoon pepper

4 tablespoons olive oil

6 sheets parchment paper, 2 feet long

2 tablespoons white wine (optional)
Directions
Preheat oven at 425°.

Salt and pepper to taste the pork chops.

Add 2 tablespoon olive oil in stainless steel pan heat the oil on high heat.

Add the pork chop to oil and brown on each side 3 minutes.

In a bowl mix completely sliced onion, the rest of the olive oil, and the rest of salt and pepper with the fresh thyme.

Bring onion mixture to the parchment paper and make first layer. Add an even portion of apple on top then bring pork chop as the top layer.

Raise up the ends of the parchment paper and twist top tight like the ends of candy wrapper (splash of white wine in each if wanted).

Place in oven for 20-30 minutes dependent on cut of pork.