Lemon and Hot! Pasta Salad With Kidney or Cannellinni Beans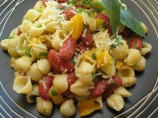 Photo by flower7
Prep Time: 20 mins
Total Time: 35 mins
Servings: 6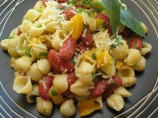 Photo by flower7
About This Recipe
"An easy, filling, summer pasta salad to tingle your tongue and tummy"
Ingredients
7 tablespoons olive oil

4 tablespoons lemon juice

3 tablespoons Dijon mustard

2 garlic cloves ( minced)

2 teaspoons lemon zest

salt and pepper

1 -2 jalapeno pepper, diced with or 1-2 without seeds

1/2 cup chopped scallion

1/8 cup torn fresh basil

1/8 cup fresh fresh parsley

1 cup sliced celery

1 (14 ounce) cans kidney beans or 1 (14 ounce) cans cannellini beans

1 -2 tablespoon red pepper flakes

1/4 cup parmesan cheese

12 ounces favorite pasta ( shells, penne, farfalla etc.)
Directions
Pasta: follow directions on the package to cook to al dente. Drain and cool. Place in a large bowl.

Dressing and Vegetables: Combine in a bowl and whisk olive oil, lemon juice, mustard, zest, and garlic. Season with salt and pepper and add basil, parsley, and scallions. Add Jalepeno and celery. Whisk again.

Combine dressing and vegetables in a large bowl with pasta. Toss in beans. Sprinkle with pepper flakes and parmesean.

Serve Cool.