Carolina Barbecued Baby Back Ribs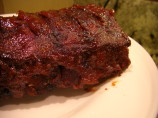 Photo by puppitypup
Prep Time: 30 mins
Total Time: 3 hrs 30 mins
Servings: 4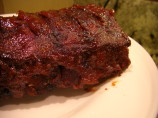 Photo by puppitypup
About This Recipe
"These tasty ribs are easy to prepare, and make an attractive presentation with their shiny dark mahogany finish. Ask your butcher to cut the ribs in half, lengthwise, for more easily handled portions. Serve with a colorful fresh fruit salad topped with my creamy orange fruit salad dressing, "Creamy Orange Fruit Salad Dressing" and fresh corn on the cob, for a meal that will impress your guests. The recipe calls for 2 racks of baby backs."
Ingredients
4 -6 lbs pork baby back ribs, cut by your butcher as explained above

1/8 cup chili powder

1 tablespoon fresh ground black pepper

1 tablespoon brown sugar

2 teaspoons crushed red pepper flakes

1 teaspoon garlic powder

1 teaspoon dried thyme

Carolina Mountain Barbecue Sauce

1 medium yellow onion

1 tablespoon vegetable oil

2 teaspoons olive oil

4 garlic cloves, finely minced

1 cup brown sugar

2 cups ketchup

3/4 cup apple cider vinegar

1/2 cup soy sauce

2 tablespoons Worcestershire sauce

1 teaspoon crushed red pepper flakes

1 teaspoon dry mustard

1 tablespoon finely minced ginger
Directions
Remove the membrane from the underside of the ribs. This is important. If you've not done this before, Google the technique.

In a small bowl, combine the chili powder, sugar, crushed red pepper, garlic powder and thyme and mix well.

Using your fingers, rub the mixture over both sides of the ribs.

Cure the ribs in the refrigerator for at least 2 hours and for more flavor, up to 24 hours.

To make the barbecue sauce, chop the onion and cook it in the vegetable oil until it is dark golden.

Transfer the onion to a saucepan and add all the remaining barbecue sauce ingredients.

Bring to a simmer, reduce heat to low, cover and simmer for 30 minutes.

Pour the sauce through a medium-meshed strainer, scraping the sieve with a metal spoon to force all the pulp through the sieve.

Refrigerate the sauce.

Grill the ribs over medium indirect heat, for about 75 minutes or until the meat begins to shrink from the ends of the rib bones.

Baste the ribs with the sauce occasionally, stopping 15 minutes before removing the ribs from the grill.

To serve, cut the ribs into individual pieces and transfer them to a garnished serving platter or to garnished individual plates and serve at once, along with any extra sauce and the fruit salad and corn on the cob.