Chef Joey's Vegan Tofu Cheesecake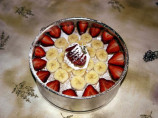 Photo by Chef Joey Z.
Prep Time: 30 mins
Total Time: 1 hr 30 mins
Servings: 10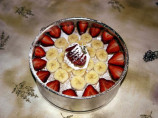 Photo by Chef Joey Z.
About This Recipe
"I got this recipe from the Veg food.net site. One of the steps is to drain the silken tofu. I set mine in a hand sieve over a bowl and let it drain over night. I added a few extra ingredients to suit my tastes. This turned out creamy and delicious. I think it would be good with some fresh fruit on top and a nice dollop of Whipped Coconut Cream."
Ingredients
1 1/4 cups graham cracker crumbs

2 tablespoons raw sugar

1/4 cup vegan margarine ( vegan)

2 lbs soft silken tofu ( soft silk, well drained but not pressed)

8 ounces tofutti better-than-cream-cheese ( better than cream cheese brand)

1/4 cup pineapple juice concentrate

1/2 cup sunflower oil

1 tablespoon lime juice

1 tablespoon vanilla extract

1/2 cup organic maple syrup

1 tablespoon ground coriander

1 tablespoon arrowroot, dissolved in

2 tablespoons cold water

1 tablespoon dried orange peel

3 tablespoons soymilk powder

3 tablespoons psyllium, seed husk ( powdered)
Directions
Preheat oven to 350'F.

The first three ingredients are for the Graham Crust.

Put the graham crackers in a food processor and process to break them up into a fine powder. Then add the sugar, then the melted margarine. Pulse to incorporate.

Press the crust into a greased 9 inch spring form pan. Bake at 350'F for 10 minutes. Let cool.

Put your tofu and cream cheese in the bowl of a hand mixer (I used my kitchen aid) and whip until the mixture is smooth and creamy with no lumps.

Add the remaining ingredients and whip again until well incorporated.

Pour into the spring form pan with the graham crust and bake at 350'F for 45-50 minutes. Turn off the oven.

Let sit for 15 more minutes to allow the cake to settle. It should be lightly golden round the edges and should have pulled away from the sides of the cake tin.

It will wiggle if you shake it slightly. I also gently touched the top and it sprang back.

Remove the cake from the oven and place on a cooling rack for at least one hour. Then, put in fridge for at least 3 more hours.

Check your cake as it bakes, you don't want it to burn.

When you cut a piece of this put a paper towel in the cut section as it will absorb any moisture and prevent soggyness on the bottom of the cake.

Bon Appetit!