Pulled Chicken Sandwiches (Crock Pot)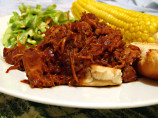 Photo by justcallmetoni
Prep Time: 10 mins
Total Time: 6 hrs 10 mins
Servings: 4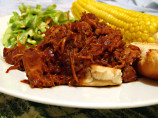 Photo by justcallmetoni
About This Recipe
"A personal take on a recipe from the "Slow Cooker Bible" and based on recipes typical of North Carolina styled BBQ. The sauce is tangy and flavorful but not spicy as the amount of hot sauce is just enough to balance the sweetness of the ketchup. Certainly mild enough to serve to kids. It you want more zing, add more tabasco or a chopped chipotle pepper en adobo. (If your crock pot is large enough, this easily doubles and the leftovers can be frozen.)"
Ingredients
1 medium onions or 1/2 large onion, thinly sliced

3 boneless skinless chicken breasts

Sauce

1 cup ketchup

2 tablespoons cider vinegar

2 tablespoons molasses

1 tablespoon yellow mustard

1/4 teaspoon black pepper

1 teaspoon onion powder

1/4 teaspoon cumin

1/2 teaspoon garlic powder

1/2 teaspoon Tabasco sauce

1 pinch salt
Directions
Cut the onion in half and slice into thin half rings. Line the bottom of the crock pot with the onions.

Trim the chicken breasts and place on top of the bed of onions.

Mix all of the sauce ingredients together and pour on top of the chicken covering completely. (I make the sauce the night before so that it is a simple dump and run in the morning.)

Cook for 6 hours on low setting. The sauce thickens and turns into a dark rich brown during cooking. At the same time the onions dissolve into the sauce.

When the chicken is falling apart tender, take two forks and shred the chicken.

Serve on top of split buns. I like mine toasted so they hold up better to the weight of the shredded chicken.

Suggested sides include baked beans, corn on the cob, coleslaw or cucumber salad.