Spicy Tilapia With Mushrooms and Zucchini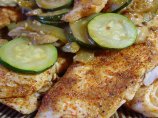 Photo by Beautiful BC
Prep Time: 10 mins
Total Time: 20 mins
Servings: 2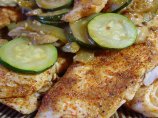 Photo by Beautiful BC
About This Recipe
"I wanted to add more fish to my diet so one day I bought fresh Tilapia and looked online for an easy recipe to cook that evening because I never buy fresh fish and didn't know the first thing how to cook it. I found a recipe similar but I added my own special touch to it and pretty much changed the original. My husband and I loved it. Here's my version!"
Ingredients
2 teaspoons olive oil

1/4 cup chopped onion

1 garlic clove, minced

1/4 cup green bell pepper, thin slices

1 medium zucchini, thin slices

4 ounces fresh large mushrooms, thin slices

2 -6 ounces tilapia fillets

cajun seasoning

powdered cayenne pepper

1 lime, cut in half

OPTIONAL
Directions
Instructions.

Heat oil in large skillet over medium heat. Stir-fry onion, garlic clove and pepper until crisp-tender, then add zucchini and continue to cook for a short time. Finally add mushrooms. Push veggies off to the side. Sprinkle one side of Tilapia with Cajun seasoning. Add to skillet. Cook about three minutes and turn.

Cut lime in half and squeeze lime juice on tilapia from one half of the lime. Use the other half for serving if you like to squeeze it fresh on your fish. Sprinkle cayenne pepper according to taste. Then cover and continue to cook until fish is done, about another three minutes. Serve.

Pan may dry after sautéing veggies, so I spray some olive oil spray before I place tilapia in pan to keep it from sticking. I also like to add a sprinkle of Marjoram on fish.

I like to serve it with Steamed Jasmine Rice.