Vegan Chocolate-Chip Pancakes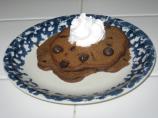 Photo by danakscully64
Prep Time: 5 mins
Total Time: 15 mins
Yield: 6 6-7 inch pancakes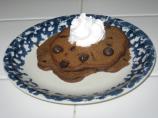 Photo by danakscully64
About This Recipe
"Recipe from Isa Moskowitz's "Vegan With a Vengeance.""
Ingredients
1 cup all-purpose flour

2 tablespoons all-purpose flour

3 tablespoons cocoa powder

2 teaspoons baking powder

1/2 teaspoon salt

1/3 cup water

1 -1 1/2 cup rice or 1 -1 1/2 cup soymilk

2 tablespoons canola oil

3 tablespoons pure maple syrup

1 teaspoon vanilla extract

1/2 teaspoon almond extract (optional)

1/3 cup semi-sweet chocolate chips

canola oil or cooking spray, for pan
Directions
In a large mixing bowl sift together the flour, cocoa powder, baking powder, and salt. Create a well in the center of the flour mixture and add the water, rice milk, oil, maple syrup, and extracts. Mix until just combined, fold in chocolate chips.

Oil and preheat a large skillet over medium-high heat for about 2 minutes.

Use a ladle to pour batter into the pan; most standard ladles will yield a 6-inch pancake. Cook until bubbles form on top, about 3 minutes. Turn pancakes over and cook until bottoms are browned and the pancakes are cooked through, about 2 more minutes.

Serve immediately or keep warm on a plate covered with foil while cooking the others. Repeat with remaining batter.