Challah Bread (Bread Machine)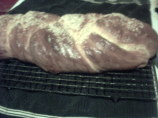 Photo by Chocolatl
Prep Time: 15 mins
Total Time: 35 mins
Yield: 1 Loaf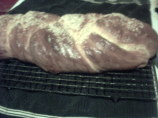 Photo by Chocolatl
About This Recipe
"From 100 Bread Machine Recipes by Vicki Smallwood. The saffron is what gives this its unique golden yellow color. This doesn't last long whenever I make this. Cooking time does NOT include dough cycle time."
Ingredients
1 pinch saffron thread

1 tablespoon water, boiling

2 eggs, beaten

3 tablespoons honey

2/3 cup hot water ( 100F-105F)

5 tablespoons butter, melted

1 teaspoon salt

3 1/2 cups white bread flour

1 1/2 teaspoons yeast

To Finish
Directions
In a small bowl, soak the saffron threads in the 1 tablespoon of boiling water for 10 minutes.

In the meantime, place the beaten eggs, honey, hot water and melted butter in a bowl. Mix well.

Add the saffron threads with the soaking water, stir and pour the mixture into the baking pan of your bread machine.

Mix the salt into the flour and add to the baking pan and spoon the yeast on top.

Set the program to 'DOUGH.'.

When the dough is ready (mine takes 90 minutes), transfer it to a lightly floured surface and knead it for 2-3 minutes. (The dough will feel quite soft and silky.).

Shape the dough into 3 equal-sized pieces, then roll each piece into a sausage shape measuring approximately 12 inches in length.

Pinch the top end of each length of dough together, then weave the pieces into a braid/plait.

Pinch the bottom ends together, then tuck both ends under the dough to form a neatly braided loaf.

Place the dough on a greased baking sheet, brush with oil, cover with plastic wrap/cling film and leave it to rise/prove in a warm place.

Preheat the oven 220C/425°F.

When the dough has nearly doubled in size, remove the plastic wrap and lightly brush the top of the loaf with the beaten egg.

Bake for 20-25 minutes, or until golden brown.

Transfer the loaf to a wire rack and leave it to cool before serving.