Finger-Lickin' Knuckle-Suckin' Chin-Drippin' Good BBQ Sauce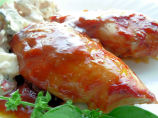 Photo by French Tart
Prep Time: 10 mins
Total Time: 3 hrs 10 mins
Yield: 8 pint jars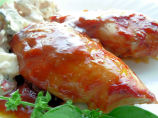 Photo by French Tart
About This Recipe
"My mother-in-law gave me this recipe when I was just a bride. I make two batches a year to keep up with supply & demand! The kids love this on sandwiches, burgers, brats, hotdogs, grilled cheese, fries, cake (okay, just checkin'!!!). One institutional size can of ketchup will yield 8 cups."
Ingredients
8 cups ketchup

8 cups water

1/2 cup Worcestershire sauce

8 tablespoons dry mustard

4 dried chilies, crushed

1 head garlic, minced

2 1/2 cups brown sugar, packed
Directions
Mix and cook in a large roaster pan in oven at 325 degrees for several hours until thickened to your liking.

Hot pack into pint jars; seal with hot lids and rings.

Set jars upside-down on a thick towel for 15 minutes (set the timer); then put right-side up.

As the jars cool, you'll hear some *kitchen music* which means they've sealed nicely.

Store in a cool dark cellar or cupboard.

NOTE: This is the base for my chicken barbecue sauce recipe which calls for 1/2 cup bbq sauce, 1/4 cup honey, 1/4 cup soy sauce--to DIE FOR!