Flavorful Turkey Meatloaf or Turkey Loaf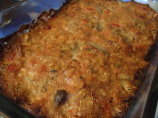 Photo by Literary Mom
Prep Time: 5 mins
Total Time: 50 mins
Yield: 1 meatloaf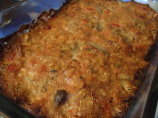 Photo by Literary Mom
About This Recipe
"I combined my favorite ideas from several Zaar turkey meatloaf recipes and came up with a winner that's moist and flavorful (my husband told me I had to write this one down). The optional gravy is based on Traditional Roast Beef With Gravy."
Ingredients
Meatloaf

1 lb ground turkey

1/2 teaspoon dried sage

1/2 teaspoon dried thyme

1/2 teaspoon oregano

1/2 teaspoon kosher salt

1 egg

3/4 cup old fashioned oats

1/4 cup tomato sauce or 1/4 cup ketchup

2 tablespoons olive oil

1 tablespoon Worcestershire sauce

1/4 cup sun-dried tomato packed in oil, chopped (optional)

1 (4 ounce) cans mixed mushrooms, undrained (optional)

Optional Gravy

1 1/4 cups beef stock

1 tablespoon butter

2 tablespoons red wine

2 teaspoons flour

1 teaspoon tomato paste
Directions
Preheat oven to 400.

Combine turkey, salt, sage, thyme and oregano.

Mix in the rest of the ingredients.

Put it in a loaf pan and bake for 45 minutes to an hour, till the top edges are nicely browned.

For optional gravy, combine stock, wine and tomato paste. Set aside. Cook butter and flour over low heat until it forms a paste. Raise the heat to medium and add the stock mixture, stirring frequently until it boils and thickens. Cook for about three minutes.