Minestra (Escarole and Little Meatballs Soup)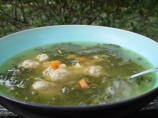 Photo by breezermom
Prep Time: 20 mins
Total Time: 1 hr 10 mins
Servings: 6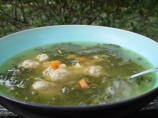 Photo by breezermom
About This Recipe
"From the Sopranos Family Cookbook with a little addition at the end from me. Yummy!"
Ingredients
1 head escarole ( about 1 pound)

6 quarts chicken broth, homemade if you have it

3 large carrots, chopped

For the Meatballs

1 lb ground veal or 1 lb beef

2 large eggs

1/2 cup onion, finely minced

1 cup plain breadcrumbs

1 cup freshly grated parmigiano-reggiano cheese

1 teaspoon salt

pepper, freshly ground ( to taste)

Foe the end of cooking and serving

8 ounces ditalini or 8 ounces tubetti or 8 ounces spaghetti, broken into bite sized pieces

1 large egg, mixed

freshly grated parmigiano-reggiano cheese
Directions
Trim the escarole and discard any bruised leaves. Cut off the stem ends. Seperate the leaves and wash well in cool water, especially the center of the leaves where soil collects. Stack the leaves and cut them crosswise into 1 inch strips. You should have about 4 cups.

In a large pot, combine the escarole, broth, carrots. Bring to a simmer and cook until the escarole is almost tender, about 30 minutes.

Meanwhile, mix together the ingredients for the meatballs. Shape the mixture into tiny meatballs, less than 1 inch in diameter.

When the escarole is cooked, stir in the pasta and return the soup to a simmer. Drop the meatballs into the soup. Cook over low heat, stirring gently, until the meatballs and pasta are cooked, about 20 minutes. Taste for seasoning. At this point I drizzle in one mixed egg and stir. It makes pretty egg flower strings throughout the soup.

Top with grated Parmesan and serve hot.