Jerk Chicken Thighs With Mango Salsa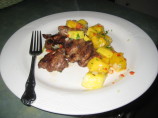 Photo by Dorichan
Prep Time: 25 mins
Total Time: 41 mins
Servings: 4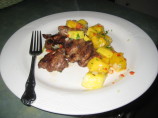 Photo by Dorichan
About This Recipe
"Treat your summer barbecue guests to this delicious grilled recipe instead of the usual hamburgers and hot dogs. From W.W."
Ingredients
3/4 teaspoon ground cinnamon

3/4 teaspoon ground allspice

1/2 teaspoon garlic salt

1/4 teaspoon dried thyme

1/4 teaspoon table salt

1/4 teaspoon black pepper

1/8 teaspoon cayenne pepper ( to taste)

2 tablespoons fresh lime juice, divided

1 lb boneless skinless chicken thighs, about 6 thighs

1 large mango, diced

2 small shallots, finely chopped

1 large jalapeno pepper, cored, seeded and minced ( do not touch seeds with bare hands)

1 tablespoon fresh cilantro, fresh, minced

1/8 teaspoon table salt ( to taste)
Directions
Preheat grill to medium heat.

Combine cinnamon, allspice, garlic salt, thyme, 1/4 teaspoon of salt, black pepper, cayenne pepper and 1 tablespoon of lime juice on a plate; mix to a paste. Brush both sides of chicken with seasoning paste; set aside for 10 minutes to allow flavors to blend.

Meanwhile, combine mango, shallot, jalapeno, cilantro, remaining tablespoon of lime juice and 1/8 teaspoon of salt in a bowl.

Place chicken on preheated grill. Grill for 10 minutes; flip and grill until cooked through, about 6 minutes more. Cut each chicken thigh in half to serve. Yields 3 pieces of chicken (1 1/2 thighs total) and about 1/2 cup of salsa per serving.

*Get crafty with leftovers: If you're only cooking for 2 people, still make this recipe for 4 servings. Then combine the leftover chicken with 2 cups of arugula and 1 cup of cooked asparagus for an entrée salad another night.