Coconut and Raspberry Muffins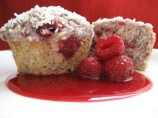 Photo by Southern Polar Bear
Prep Time: 10 mins
Total Time: 25 mins
Yield: 12 muffins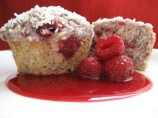 Photo by Southern Polar Bear
About This Recipe
"Serve with raspberry couli."
Ingredients
2 cups flour

4 teaspoons baking powder

3/4 cup desiccated coconut

1/4 cup soft brown sugar

250 g frozen raspberries, slightly thawed ( reserve 12 for topping)

1/4 cup white sugar

1 teaspoon vanilla essence ( vanilla extract)

60 g butter, melted

2 eggs

1 cup milk

4 tablespoons shredded coconut, for topping
Directions
Preheat oven to 200°C Lightly grease 12 muffin tins.

Sift together flour and baking powder into a bowl. Stir in coconut and soft brown sugar.

Place raspberries in a bowl and cover with white sugar.

In another bowl lightly whisk together the vanilla, melted butter, eggs and milk. Pour over raspberries.

Fold egg mixture into dry ingredients and stir quickly to combine.

Spoon mixture into prepared muffin tins, sprinkle with coconut shreds and press one raspberry into the centre of each muffin.

Bake for 12 - 15 minutes or until muffins spring back when lightly pressed.