Lamb Loin Chops (For the Grill) With Cafe De Paris Butter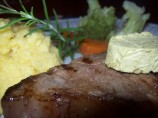 Photo by Jostlori
Prep Time: 15 mins
Total Time: 25 mins
Serves: 4, Yield: 4 3 Chop Servings Per Person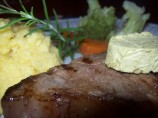 Photo by Jostlori
About This Recipe
"1 pic is supposed to be worth 1,000 words, but the pic attached to this recipe from the *Great Lamb* cookbook of the Australian Women's Weekly cookbook series spoke to me in only a few words. It said: "I'm gorgeous to look at, easy-to-fix & great to eat!" I can hardly wait to try this & was impatient to share it w/you. (NOTES - The Cafe De Paris butter should be made 1 day in advance & chilled overnite ... Time does not include chilling time or the 1 hr refrigeration for the chops ... See note at end of prep Re Nutritional Facts) *Enjoy*"
Ingredients
For Cafe De Paris Butter

2 tablespoons Worcestershire sauce

1 tablespoon lemon juice

1 garlic clove ( crushed)

2 tablespoons capers ( sml size, drained)

1 tablespoon chives ( finely chopped)

2 tablespoons fresh parsley ( finely chopped)

1 teaspoon fresh ginger ( finely grated)

1 cup butter

For Lamb Loin Chops
Directions
Blend or process all the Cafe De Paris butter ingredients till smooth. Refrigerate for 30 min to firm slightly.

Using plastic wrap as a guide, roll butter mixture into a smooth log shape, transfer to lightly oiled foil, re-wrap & refrigerate overnite.

1 hr prior to your mealtime, put lamb loin chops + 1/3 cup Worcestershire sauce in a plastic bag & shake to get good coverage of all the meat surfaces. Refrigerate for 1 hours.

Remove lamb loin chops from bag & cook on the grill till browned on both sides & cooked to desired doneness. Serve w/sliced chilled butter placed atop ea chop.

NOTE: The nutritional facts are askewed here because the system assumes the entire amt will be eaten in 4 servings -- BUT you will in fact have an excess of the butter part of the recipe for future use. :-).