Aunt Jerri's Upside-Down Pineapple Cake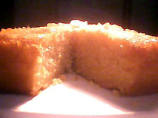 Photo by jakira
Prep Time: 30 mins
Total Time: 1 hr 8 mins
Yield: 12 slices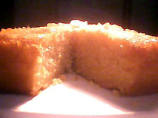 Photo by jakira
About This Recipe
"This is an excellent recipe i came up with. I really like upside down pineapple cake, and i thought I'd try to bake it from scratch. It was wonderful so i thought i would share it.I used pineapple chunks instead because it was all i had in the cabinet at the time. Also i left the cherries out because no one in the house likes them, you can include them if you want, make a little design and have fun with it! This cake is superb with vanilla ice cream."
Ingredients
cake

3 cups self-rising flour

2 teaspoons baking powder

1/2 teaspoon salt

1 1/2 cups sugar

1 cup butter

4 eggs

2 teaspoons vanilla

1 cup milk

3 tablespoons butter, melted

3/4 cup brown sugar

1/4 cup diced pineapple chunk, diced
Directions
preheat oven to 350 degrees F.

in bowl combine flour, baking powder, and salt and sift together.

in a separate bowl combine eggs and butter.

cream together with hand mixer.

gradually add sugar while continuing to blend.

add vanilla and milk, blend till mixed.

gradually add dry ingredients to wet batter.

mix well, but don't over mix.

icing: place melted butter in round cake pan.

put in the brown sugar and mix with butter.

make sure it is evenly spread around the pan.

sprinkle pineapples around pan.

evenly pour batter into pan.

bake for 35 minutes or until you can insert a tooth pick and it comes out clean.

Note:if you want to include cherries sprinkle in with pineapples.

take out of pan immediatly or the sugar will stick to the pan.