Penne Rigate With Prosciutto, and Snow Peas in a Truffled Cream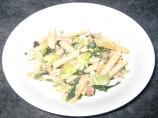 Photo by Flavor VIsion
Prep Time: 10 mins
Total Time: 20 mins
Servings: 4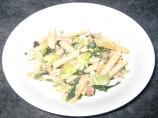 Photo by Flavor VIsion
About This Recipe
"This is a dish full of flavor. It happens to be one of my favorite pasta dishes. I chose the penne pasta so the ridges would grab the sauce, which is absolutely delectable… Made up of a truffled cream sauce then tossed with prosciutto, spring peas or fava beans and parmigiano cheese. You will love this dish…"
Ingredients
1 lb whole wheat penne

1 tablespoon olive oil

1 1/2 cups heavy cream

2 garlic cloves, chopped

8 tablespoons truffle butter

1/2 cup dry white wine

1/2 lb prosciutto, julienned

3/4 cup spring peas ( I prefer Fava beans, peel the fava beans)

sea salt

1 tablespoon white truffle oil

1 cup fresh spinach

1 tablespoon chopped fresh basil

1/4 cup freshly grated parmigiano
Directions
Cook the pasta al dente. Set aside.

In a heavy sauce pan sauté the garlic with the olive oil, about 2 minutes then add the spinach, peas and the white wine and reduce 50%.

Once reduced add the cream, truffle butter, prosciutto, and bring to a simmer.

Finally add the cooked pasta; turn the heat to high and cook until the pasta is fully coated, shake the pan vigorously to prevent sticking.

Season to taste with salt, add the truffle oil, fresh basil, and the grated parmigiano, toss.

You can add fresh ground pepper to top it off if you like. Serve immediately.