Homemade " French" Dressing (Rachael Ray)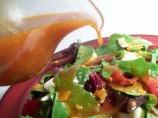 Photo by Sharon123
Prep Time: 5 mins
Total Time: 5 mins
Yield: 0.5 cup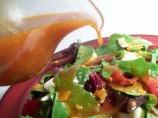 Photo by Sharon123
About This Recipe
"Ok -- since I'm always harping on you to buy that bag of salad, I thought I'd take you back to the basics with a garden salad. Now I know you're probably saying, "I don't need a recipe to tell me how to hack up a head of lettuce." You're right; you don't! But you just HAVE to try out that hacked up iceberg with a dressing you make from scratch. It's so much better than the bottled stuff and healthier too because you know EXACTLY what's in it! So today instead of a bag of salad, hack a leafy head. Trust me--tearing it apart is GREAT therapy after a hard day's work. Throw in some sliced cucumbers and radishes, and chopped scallions. Add some shredded carrots for color. Then stir up the dressing. This is VERY tasty! The only note I'll add is something Mom taught me years ago -- never ever ever cut lettuce with a metal utensil. It will make the leaves turn brown very quickly. Always chop lettuce with a plastic or plastic-like utensil or tear it up by hand."
Ingredients
3 tablespoons white wine vinegar

3 tablespoons sugar

1/4 cup ketchup

1/4 cup extra virgin olive oil, eyeball it

1 teaspoon garlic powder

2 teaspoons Worcestershire sauce

salt, and

white pepper
Directions
Combine lettuce and chopped veggies in salad bowl. (Use whatever "salad greens" you prefer.).

Add all of the dressing ingredients into a blender. Put the top in place and blend on high until dressing is combined.

Pour dressing over salad and toss. Adjust salt and pepper, to your taste.