Wasabi Marinated Beef Satay With Fiery Japanese Dipping Sauce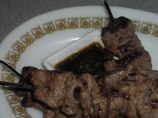 Photo by teresas
Prep Time: 4 hrs
Total Time: 4 hrs 5 mins
Servings: 6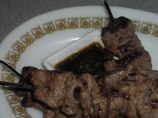 Photo by teresas
About This Recipe
"I found this recipe on the Texas Beef Council website. Don't let the name of the dipping sauce fool you - DH and I didn't find it fiery. Some people may find it a little spicy, but not fiery. Freezing the meat prior to slicing and using an electric knife makes this job much easier. The original recipe did not call for seasoning the meat before grilling, but we found it needed a little seasoning. We loved this recipe and it can be used as an appetizer or a main dish. The flavor is great. Please do not overcook or you will wind up with very tough pieces of meat. The preparation time includes the marinating time. This will serve 6 as an appetizer or 4 as a main dish."
Ingredients
Beef

Marinade

1 tablespoon sesame seeds

2 tablespoons wasabi powder

1 tablespoon water

1 tablespoon soy sauce

2 tablespoons olive oil

2 tablespoons rice vinegar

1 tablespoon brown sugar

seasoning

wood skewer

Fiery Japanese Dipping Sauce

2 tablespoons soy sauce

2 tablespoons rice vinegar

2 teaspoons wasabi powder

1 teaspoon chives, chopped
Directions
Trim all fat from steak and place in freezer for one hour.

Remove from freezer and cut steak across grain into thin strips, approximately 1/4" thick.

Combine marinade ingredients and place in zip-loc bag.

Add steak strips to marinade and put in refrigerator for at least 3 hours.

While beef is marinating soak wooden skewers in cold water.

Remove beef from marinade and discard marinade.

Thread beef, weaving back & forth onto skewers.

Season as desired.

Place skewers on grill over medium ash-covered coals.

Grill, uncovered for 5-6 minutes for medium-rare to medium doneness.

Combine all ingredients for Fiery Japanese Dipping Sauce and dip cooked beef in sauce.