Grilled Provolone, Tomato and Oregano Sandwich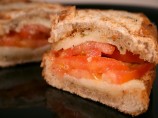 Photo by CandyTX
Prep Time: 10 mins
Total Time: 15 mins
Servings: 4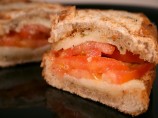 Photo by CandyTX
About This Recipe
"From George Foreman. Would be great with fresh oregano!! Added some fresh basil and instead of the tablespoons of olive oil, used a spray bottle to save a few calories!! :)"
Ingredients
1 (12 inch) baguette

2 tablespoons olive oil

1/4 teaspoon dried oregano

1/4 teaspoon garlic powder

6 ounces provolone cheese, thinly sliced

2 beefsteak tomatoes, sliced

salt and pepper
Directions
Use a serrated knife to slice off the domed top of the baguette, removing just a half inch or so (either discard, or butter and then toast on the grill, cut into cubes, and toss into a salad). Then slice the baguette in half horizontally.

Combine the olive oil, oregano and garlic powder in a small bowl. Drizzle the mixture over both baguette halves.

Preheat the grill to medium.

Arrange half the cheese slices over the bottom half of the baguette, followed by the tomato slices. Sprinkle with the salt and pepper, then add the remaining provolone. Top with the remaining baguette half.

Grill the sandwiches for about 3 minutes, until the cheese melts. Cut the sandwich into 4 pieces and serve immediately.