Olive Garden Spinach & Artichoke Dip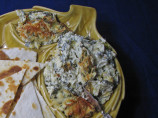 Photo by Kerfuffle-Upon-Wincle
Prep Time: 30 mins
Total Time: 1 hr
Servings: 4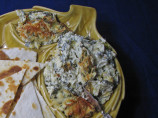 Photo by Kerfuffle-Upon-Wincle
About This Recipe
"I absolutely love this dip! I got it from the Olive Garden website."
Ingredients
OR

1 (14 ounce) cans artichoke hearts, drained and sliced

1 lb cream cheese, room temperature

8 ounces mascarpone cheese, room temperature

2 tablespoons all-purpose flour, sifted

1 cup parmesan cheese, grated

1/4 teaspoon fresh thyme leave

1/4 teaspoon crushed red pepper flakes

1 tablespoon fresh flat leaf parsley, chopped

1 fresh garlic clove, minced

5 green onions, chopped

salt

ground black pepper

1 (6 ounce) packages fresh spinach, chopped

8 slices crusty Italian bread

extra virgin olive oil ( to drizzle)
Directions
Preheat oven to 325ºF.

Artichoke Preparation:.

TRIM off stems and dry leaf ends.

BOIL artichokes in 3 quarts water with 1 tsp salt and lemon juice for 30 minutes.

COOL artichokes. Clean, peel, remove center "choke" (the hairy part) and slice artichoke.

FOLLOW Dip Preparation steps below.

Dip Preparation:.

MIX all ingredients in a large bowl, except bread and extra virgin olive oil.

COAT a large non-stick baking pan with pan spray; fill pan with mixture. Bake at 325ºF for about 25 minutes or until bubbling and center is hot.

DRIZZLE both sides of bread with extra virgin olive oil. Grill bread on both sides.

SPRINKLE top of heated dip with parmesan cheese. Serve hot with grilled bread.