Kitchen Sink Salami Sandwich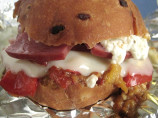 Photo by Caroline Cooks
Prep Time: 10 mins
Total Time: 10 mins
Servings: 4-6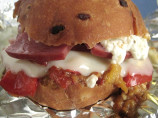 Photo by Caroline Cooks
About This Recipe
"Really not a recipe..just an assembling of easy peasy Trader Joe's ingredients!"
Ingredients
1 baguette

0.5 (16 ounce) packages salami

1 (8 ounce) herbed goat cheese

1 (10 ounce) jars roasted red pepper and eggplant spread

12 ounces provolone cheese

1 (10 ounce) jars roasted red and yellow peppers
Directions
Slice baguette lengthwise.

Spread red pepper tapenade on one half.

Spread goat cheese on other.

Layer salami, cheese, roasted red peppers on top.

Put whole thing together.

Wrap in plastic wrap.

Refrigerate overnight.

Bring to room temp and slice into 1 inch pieces.

Add anything else you like -- turkey, other cheese, arugula, but that would wilt overnight, etc.

And you don't HAVE to refrigerate overnight, but I like the way the flavors meld.