Scrumptious Swedish Apple Pie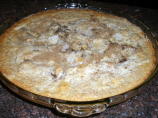 Photo by chia
Prep Time: 15 mins
Total Time: 50 mins
Servings: 4-6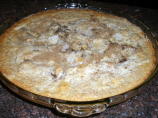 Photo by chia
About This Recipe
"This doesn't have the typical pie crusts that Americans are used to. Instead, it is more like a coffee cake or cobbler. The batter is mixed with the apples and the whole mixture is baked in a pie plate. Much easier than a traditional crusted pie, and a nice change of pace with a delicious topping."
Ingredients
1/2 cup all-purpose flour

1/4 cup white whole wheat flour

1/4 cup finely ground almonds ( or another 1/4 cup all-purpose flour)

3/4 cup sugar

1/4 teaspoon ground cardamom

2 teaspoons baking powder

1/4 teaspoon vanilla

1/4 teaspoon almond extract ( or another 1/4 tsp vanilla)

4 egg whites

2 cups apples

2 tablespoons sugar

1/2 tablespoon cinnamon

1/8 tablespoon ground cardamom (optional)
Directions
Peel and chop the apples, set them aside.

Mix the flours, sugar, cardamom (optional) and baking powder together; add the egg whites and blend thoroughly.

The batter will be stiff.

Fold in the chopped apples.

Put mixture into a greased pie plate.

Mix the sugar, cinammon and cardamom together.

Sprinkle over the top of the apple-batter mixture.

Bake at 350F for 35 minutes.

Enjoy! (Always delicious with vanilla ice cream or whipped cream).