V's Grilled Jerk Pork Tenderloin and Pineapple Mango-Kiwi Salsa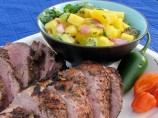 Photo by lazyme
Prep Time: 15 mins
Total Time: 35 mins
Servings: 6-8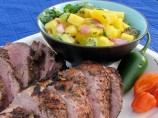 Photo by lazyme
About This Recipe
"This recipe is one of the best grilled jerk tenderloin recipes served with its own Pineapple Mango-Kiwi Salsa. The flavors of the two balance the heat of the spicy seasoning and the sweet of the Pineapple Salsa. Recipe courtesy of the Queen Bs ZWT3 (Won 1st place in a Jerk Contest) :)"
Ingredients
Jerk Spice

1/2 cup finely chopped onion

1/3 cup finely chopped scallion ( 4 to 6 scallions)

1/4 cup firmly packed fresh thyme leave, and tender stems chopped

4 garlic cloves, finely chopped

2 tablespoons fresh orange juice

2 tablespoons fresh lime juice

1 -3 scotch bonnet peppers or 1 -3 habanero pepper, seeded and minced, depending on taste

1 tablespoon finely chopped fresh ginger

2 teaspoons ground coriander

2 teaspoons fresh ground black pepper

1 teaspoon ground allspice

1 dash cumin

1 teaspoon salt

1/2 teaspoon ground nutmeg

1/2 teaspoon ground cinnamon

Pineapple Mango-Kiwi Salsa

2 cups fresh pineapple, chopped

1 fresh mango, chopped

1 kiwi, chopped

1/3 cup purple onion, chopped

1/4 cup fresh cilantro, chopped ( or to taste)

1 tablespoon fresh ginger, chopped fine ( or to taste)

1 tablespoon lime juice

1 tablespoon rum ( or to taste)

1 tablespoon jalapenos (or to taste) or 1 tablespoon poblano pepper, chopped fine ( or to taste)
Directions
DIRECTIONS.

Combine the Jerk Spice ingredients in a small bowl and mix to form a coarse paste. Or blend in food processor.

Coat pork tenderloin and Marinate at least 4 hours or overnight. The longer it marinates, the more flavor the pork absorbs.

Pineapple Mango-Kiwi Salsa.

Put all in a bowl, mix it up, and let it sit for a little bit to allow the flavors to mingle.

Grill tenderloin, covered, over indirect medium heat for 10 minutes each side.

Juices should run clear or temperature 160 degrees.

Let roast sit about 10 minutes to let juices settle.

Slice and serve with Pineapple Salsa.