Chickee's Favourite Gluten Free Sandwich (Or French!) Bread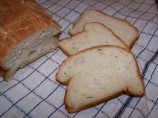 Photo by **Jubes**
Prep Time: 15 mins
Total Time: 1 hr 15 mins
Servings: 8-10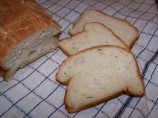 Photo by **Jubes**
About This Recipe
"This is a great bread with a unique soft texture. It will make (sort of) baguettes that can be made into garlic bread- they are a little flat, but they do the job! This will make one loaf, or two smallish baguettes. Easy to make dairy free too, just use soy milk."
Directions
Add all dry ingredients together and mix well.

Combine wet ingredients and add to the dry.

Beat in an electric mixer (strong) on high for 3 minutes.

Pour into an 8 x 4 inch loaf pan (or use oiled hands and spatula to shape into 2 thin, tallish baguettes on baking paper). Let rise in a warm place for 30 minutes.

Brush the top with oil (you must do this step! Otherwise the crust is yuk) and bake at 180 C or 350 F for 50-60 minutes.

Variations-Add olives, sundried tomatoes, italian herbs and a little parmesan to make a nice foccacia! (instead of making two baguettes shape into a square or round).