Egyptian Brown Bean Salad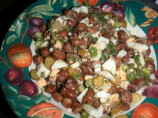 Photo by Leggy Peggy
Prep Time: 20 mins
Total Time: 30 mins
Servings: 4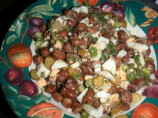 Photo by Leggy Peggy
About This Recipe
"Brown Beans, called "ful medames" are widely used in the Mid-East. (Kidney Beans are an excellent substitute.) An unusual combination of flavors, this beats the regular ol' picnic bean salad hands down! My sister gave me this recipe, and I can't thank her enough! :)"
Ingredients
2 (15 ounce) cans kidney beans, drained or 1 1/2 cups dried brown beans, soaked overnight

3 sprigs thyme

2 bay leaves

1 onion, halved

4 garlic cloves, crushed

1 1/2 teaspoons cumin seeds, crushed

3 green onions, finely chopped

6 tablespoons fresh parsley, chopped

4 teaspoons lemon juice

6 tablespoons olive oil

3 hard-boiled eggs, chopped

1 -2 dill pickle, chopped
Directions
If using dried/soaked beans, place in a saucepan, cover with water and boil 10 minutes, then proceed. If using canned kidney beans, place in a saucepan, cover with water, and add thyme, bay, and onion. Bring to a boil, then reduce heat to simmer 10-15 minutes for canned, one hour for dried.

Drain and discard the herbs and onion. Chill beans while you mix together remaining ingredients ("dressing"), except the egg and pickle.

Stir "dressing", and pour over beans and toss lightly to coat.

Gently fold in eggs and pickle, then serve.

*We chilled this salad an hour more, then served.