My Family Favourite Chocolate Cake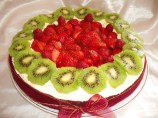 Photo by Um Safia
Prep Time: 10 mins
Total Time: 55 mins
Serves: 8, Yield: 8 decent slices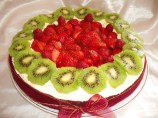 Photo by Um Safia
About This Recipe
"A super light and fluffy chocolate sponge cake."
Ingredients
226.79 g self raising flour

226.79 g margarine or 226.79 g butter

226.79 g sugar ( I always reduce the sugar to around 6oz as I don't like things TOO sweet)

3 medium eggs

4.92 ml baking powder

44.37 ml cadburys cocoa powder

approx. 200ml water
Directions
Cream the margarine and the sugar until light and fluffy. I personally prefer to lessen the amount of sugar as I don't like things overly sweet but 80z is the original recipe.

Whisk the eggs into the sugar/margarine mixture.

Slowly add the flour, baking powder and cocoa. Sieve these to avoid lumps (especially in the cocoa).

Stir in a figure of 8 fashion. Gradually add enough water to loosen the cake mix up a bit. It should be the consistency of a slightly thin custard.

Pour into a non stick cake tin, preferably with loose bottom. I use an 8'' round tin for this cake.

Bake on a middle/top shelf in the oven at 180 c for around 45 mins or until a skewer comes out clean.

Remove from tin and cool on wire rack. Once cooled, top with chocolate icing, frosting etc or dust with icing sugar and cocoa powder.