Chocolate Coconut Bundt Cake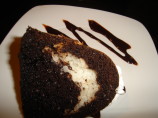 Photo by Richard-NYC
Prep Time: 15 mins
Total Time: 1 hr 5 mins
Serves: 10-12, Yield: 1.0 bundt cake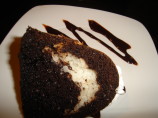 Photo by Richard-NYC
About This Recipe
"I found this recipe about 25 years ago in a magazine. I realize it isn't a "from scratch" recipe, but sometimes you want something a bit out of the ordinary even though you are pressed for time. Its been a very popular dessert with my family for picnics, BBQ's, etc. and always a success at bake sales. It tastes like those chocolate covered coconut candy bars :)"
Ingredients
Filling

Cake Batter

1 package chocolate cake mix ( 2 layer size)

1 package instant chocolate pudding mix ( 4 serving size)

2 eggs

2 egg yolks

1 1/4 cups water

1/3 cup oil

Glaze

1 cup sifted confectioners' sugar

1 tablespoon milk or 1 tablespoon light cream
Directions
Can use a chocolate glaze if you prefer.

Preheat oven to 350° degrees.

Grease and flour a 10" bundt pan.

Filling: In a small bowl, beat egg whites till foamy.

Slowly add sugar while beating whites until stiff peaks form.

Stir in flour and coconut and set mixture aside.

Cake batter: In a large bowl, mix remaining ingredients.

Beat for 2 minutes with mixer at medium speed.

Pour about 1/3 to 1/2 of the batter into the pan.

Spoon the coconut mixture evenly on top of the batter.

Fill the pan with the remaining batter.

Bake at 350° for 50-55 minutes, or until cake tester inserted into center comes out clean.

Let cake cool in the pan for about 15 minutes, remove from pan and finish cooling on rack.

When cool, top with glaze.

Confectioner's Sugar Glaze: In a small bowl, gradually stir milk into sugar, glaze should be thick enough to stay on the top of the cake, yet"drip" down the sides a bit.