Scott's Dry Pork and Rib Rub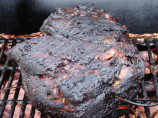 Photo by Smoking Dave
Prep Time: 5 mins
Total Time: 5 mins
Yield: 3 Racks of ribs or pork butts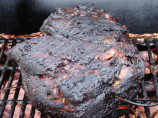 Photo by Smoking Dave
About This Recipe
"None of the pork rub recipes I tried gave me the flavor I was going for. I decided to develop my own, and after countless tries, I finally fine-tuned my recipe to one I love. This works well for ribs, pulled-pork, pork chops, etc. It makes enough for several racks of ribs or pork butts. This is a spicy but not too hot recipe. If you want a bit more heat, add more cayenne pepper.Enjoy."
Ingredients
236.59 ml light brown sugar

44.37 ml paprika

9.85 ml seasoning salt ( like Lawry's)

4.92 ml kosher salt

9.85 ml garlic powder

9.85 ml black pepper

2.46 ml cayenne pepper

9.85 ml dried oregano

4.92 ml dried thyme

2.46 ml onion powder

14.79 ml chili powder

2.46 ml dry mustard
Directions
Sift all ingredients together.I use a food processor to get a fine powder.

Put a liberal amount of the dry rub on the meat you wish to season.

Rub seasoning into the meat, covering entire surface.

Let meat sit at least a couple of hours in order to let the spices work into it. Overnight is better.

Prepare your pork as you wish. I like to cook pork butts and ribs low and slow so they fall apart. A crockpot works good if you don't want to run your oven for several hours. I finish my ribs on the grill or under the broiler with BBQ sauce.

Enjoy.