Potaje De Garbanzos (Chickpea Stew - Spain)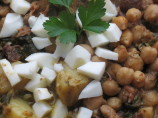 Photo by MsPia
Prep Time: 24 hrs
Total Time: 26 hrs
Servings: 6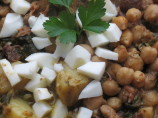 Photo by MsPia
About This Recipe
"A stew from the Southeastern Coastal Region of Spain. From Penelope Casa's "Delicioso!" The garbanzos require soaking overnight so plan accordingly."
Ingredients
1 lb chickpeas, dried

4 cups water

6 garlic cloves, peeled

2 bay leaves

1/4 lb thick slab bacon or 1/4 lb salt pork

1 ham bone or 1 beef bone

2 tablespoons olive oil ( Spanish for authenticity)

2 slices bread, 1/2-inch thick ( crusty or rustic style)

1/4 cup Spanish ham (Spanish mountain cured or prosciutto) or 1/4 cup prosciutto, diced ( Spanish mountain cured or prosciutto)

1 medium onion, finely chopped

1/2 teaspoon paprika

1 lb swiss chard or 1 lb collard greens, coarsely chopped

1 lb small red potato, peeled ( about 2 inches in diameter or larger potatoes cut in 2 inch chunks)

salt, to taste

10 blanched almonds, finely chopped

2 hard-boiled eggs
Directions
Soak the chickpeas overnight in a large pot of cold water to cover; drain.

In the large pot combine chickpeas, 4 cups water, garlic, bay leaves, slab bacon, and bone; bring to a boil, cover and simmer about 1 1/2 hours.

Meanwhile, in a medium skillet, heat the oil and saute the bread slices until golden on both sides.

Remove and reserve the bread.

Add the ham and onion to the skillet; saute until the onion has wilted.

Stir in the paprika, and remove the pan from the heat.

Add the onion mixture to the chickpeas.

Add the greens, potatoes, and salt to taste to the chickpeas and continue cooking 30 minutes or more, or until the chickpeas and potatoes are tender.

Remove the ham or beef bone.

In a mortar or food processor, combine the sauteed bread, almonds, 2 Tablespoons of the chickpeas from the pot, and the yolks of the hard-boiled eggs; mash to a paste.

Stir the paste into the stew, cover and let sit 10 minutes before serving.

Chop the hard-boiled egg whites.

Divide into soup bowls and garnish with chopped hard-boiled egg whites.