African Chicken in Spicy Red Sauce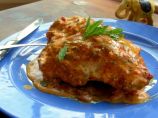 Photo by Andi of Longmeadow Farm
Prep Time: 1 hr 30 mins
Total Time: 1 hr 30 mins
Servings: 4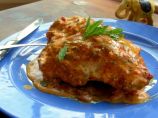 Photo by Andi of Longmeadow Farm
About This Recipe
"This recipe is from the October 2006 issue of Cooking Light. It's very tasty! The original recipe calls for using breast halves, drumsticks and thighs. I just used skinned, boneless breasts. Also, used olive oil instead of cooking spray. This is their description - " This flavourful Ethipian-inspired chicken stew uses Berbere, an Ethiopian spice blend. Store extra spice mix covered in a cool, dark place for up to two weeks. Use leftovers on Salmon, flank steak, or chicken for fiery flavour. Serve with basmati rice. **prep time includes marinating time *Additional tip*- MaidinAfrica suggested swirling a bit of plain yogurt on top just before serving so we tried that - it's really good and the contrast of colours swirled together makes for a very pretty presentation!"
Ingredients
Chicken

2 lbs boneless chicken breasts

3 tablespoons fresh lemon juice ( 1 lemon)

3/4 teaspoon salt, divided

1 teaspoon olive oil

1 1/2 cups chopped onions ( 2 medium)

1 tablespoon minced garlic

1 tablespoon butter

1 tablespoon minced ginger

1/2 teaspoon ground nutmeg

1/2 teaspoon ground cardamom

1/2 cup dry red wine

1 (14 1/2 ounce) cans chicken broth

1 (6 ounce) cans tomato paste

2 tablespoons fresh cilantro

4 lemon wedges

Berbere (use 2 teaspoons)

2 tablespoons ground red pepper

1 tablespoon fresh ground black pepper

1 teaspoon ground ginger

1 teaspoon ground cinnamon

1/4 teaspoon ground cloves
Directions
Berbere:.

Combine all ingredients in a small bowl. Yields 1/4 cup. Serving size is 1 teaspoons.

Chicken:.

Place chicken in a shallow dish; drizzle with juice, and sprinkle with 1/2 tsp salt. Cover and marinate in refrigerator for 30 minutes.

Heat a large pot over medium heat. Add olive oil. Add onion and garlic; cook 5 minutes (do not brown), stirring frequently.

Add 2 tsp Berbere, remaining 1/4 tsp salt, butter, ginger, nutmeg, and cardamom, cook 1 minute.

Add wine, broth, and tomato paste; stir until well blended.

Add chicken mixture; bring to a boil.

Cover, reduce heat, and simmer 50 minutes or until chicken is tender, turning chicken occasionally.

Stir in cilantro. Serve with lemon wedges.