Thai Tuna and Pearl Onion Shish Kebabs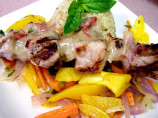 Photo by Rita~
Prep Time: 15 mins
Total Time: 22 mins
Servings: 4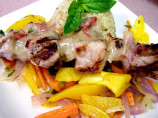 Photo by Rita~
Ingredients
1 1/2 lbs bluefin tuna steaks ( cut into 20 cubes)

20 frozen pearl onions, defrosted

Marinade

1/2 cup coconut milk, lite unsweetened

1 -2 Thai peppers, crushed

1 tablespoon brown sugar

1 lime, juice and zest of

1 teaspoon minced fresh ginger

1 teaspoon minced lemongrass ( I used Gourmet Gardens in a tube http ( or or www.gourmetgarden.com or us or index.php)

2 teaspoons fish sauce or 2 teaspoons soy sauce

1 tablespoon minced basil or 1 tablespoon minced cilantro

1/8 cup olive oil
Directions
Mix all marinade ingredients except for the oil in a large ziplock bag. Add tuna cubes and pearl onions. Marinade for 60 minutes turning a couple times.

Thread 5 tuna cube and 5 onions alternating on each soaked skewer.

Pour the remaining marinade into a small pot and bring to a boil then simmer for 5 minutes.

Brush olive oil over skewered tuna and onions.

Preheat grill to medium and lightly wipe with an oiled rag.

Grill for 5-7 minutes until golden, turning frequently.

Serve over a bed of rice topped with the heated marinade.