Egyptian Toasted Pine Nut Couscous With Garlic Shrimp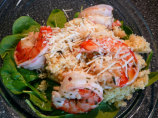 Photo by Outta Here
Prep Time: 1 hr
Total Time: 1 hr 5 mins
Servings: 4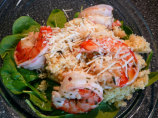 Photo by Outta Here
About This Recipe
"A delicious way to use shrimp. Posted for Zaar Worid Tour III"
Ingredients
453.59 g large shrimp ( fresh or frozen)

14.79 ml olive oil

4 garlic cloves, minced

4.92 ml dried tarragon, crushed

2.46 ml dried thyme, crushed

1.23 ml Old Bay Seasoning ( or celery salt)

118.29 ml pine nuts, toasted

1 (159.32 g) package couscous

295.73 ml chicken broth

158.51 ml sliced green onion

78.07 ml lemon juice

59.14 ml melted butter

1 (170.09 g) package Baby Spinach

shredded parmesan cheese
Directions
Peel, devein and rinse shrimp if needed, and then pat dry.

Place shrimp in a large self-sealing plastic bag.

Add oil, garlic, tarragon, thyme and Old Bay seasoning and seal bag.

Gently turn and 'massage' the bag to coat the shrimp with the marinade.

Refrigerate for at least one hour.

Prepare the couscous according to the package directions, substituting the chicken broth for the water.

Stir the pine nuts and onions into the couscous and set aside.

Combine the lemon juice and butter in a bowl, and set aside.

Saute the shrimp in a large skillet with the marinade over medium heat for 3 to 5 minutes or until shrimp turns opaque( Do not overcook or the shrimp will be tough).

Pour half of the butter over the shrimp.

To serve, divide the spinach among individual bowls.

Spoon the couscous onto the spinach.

Arrange the shrimp on the couscous and pour the remaining lemon butter over everything. Sprinkle with shredded parmesan.