Pork With Pear and Ginger Sauce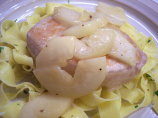 Photo by Nif
Prep Time: 25 mins
Total Time: 25 mins
Servings: 4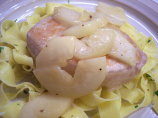 Photo by Nif
About This Recipe
"Try paring with a dry riesling wine"
Ingredients
4 boneless pork chops, centre cut, 3/4 inch thick

2 teaspoons vegetable oil

2 tablespoons lemon juice

2 tablespoons sugar

2/3 cup white wine ( could use apple juice)

1/2 cup chicken stock

2 pears, peeled cored, thinly sliced

2 teaspoons cornstarch

1/2 teaspoon ground ginger

salt and pepper
Directions
Trim fat from porkchops.

In larg non stick skillet heat oil (med heat).

Cook pork 3-5min per side.

Transfer to dish and cover with foil to keep warm.

Add the lemon juice and the sugar to the pan and stir contantly abd cook until golden.

Stir in wine and chicken broth.

Add pears and cook uncovered for 5-7 minutes or until tender.

Mix cornstarch with 2 tsp water.

Add salt and pepper to taste.

Add ginger.

Return pork chops to skillet and heat through.

***I serve this with rice.