Raw Food: Almond-Based Berry Smoothie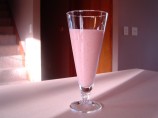 Photo by mliss29
Prep Time: 7 mins
Total Time: 7 mins
Servings: 2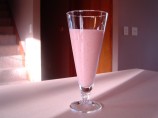 Photo by mliss29
About This Recipe
"I saw this recipe on a raw food lecture video. Although, I don't follow the raw food diet, I like some of the recipes. This one is good because it's dairy-free and sugar-free. I've also used kiwi in place of the berries with good results. (Prep. time doesn't includ soaking time.)"
Ingredients
1/2 cup almonds, soaked in water overnight

2 bananas

2 dates, pitted and chopped

1/2 cup blueberries or 1/2 cup strawberry, frozen is fine

1/2 cup water, to preferred consistency
Directions
Drain and rinse almonds.

Put all ingredients in a blender. I put them in in order, and I never have a problem with the dates getting stuck in the bottom.

Pulse until the chunks are broken up. Then blend until smooth.

Makes 2 servings. I eat one serving, and save the other for the following day. The banana will cause some discoloration in the saved serving, but the taste is still good.