Chef Joey's Vegan Lemon Squares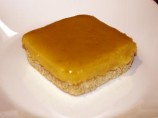 Photo by Chef Joey Z.
Prep Time: 20 mins
Total Time: 1 hr 5 mins
Servings: 9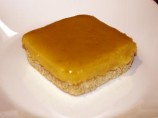 Photo by Chef Joey Z.
About This Recipe
"These are tangy and sweet all at the same time. I found it necessary to use the gelatin to help thicken the lemon curd. I also cut back on the fine sugar to 8 oz. in the curd so it isn't as sweet because I used a sweet lemon for this dessert."
Ingredients
3/4 cup spelt flour

1/4 cup yellow cornmeal

1 pinch salt

1/8 teaspoon baking soda

2 tablespoons vegan margarine ( vegan-at room temperature)

1 cup raw sugar ( divided)

1 egg substitute

1 tablespoon plain non dairy soy yogurt

1/4 teaspoon vanilla extract

1/2 cup lemon juice

4 lemons, rind of

4 ounces vegan margarine

12 ounces fine sugar

1 (1/4 ounce) packet vegan gelatin

4 egg substitute
Directions
Preheat oven to 350'F. Spray a 9x9 inch baking pan with vegan spray oil.

FOR THE CRUST:.

Combine the flour, cornmeal, salt and baking soda, set aside.

Beat the butter in a separate large mixing bowl until creamy. Add 1/3 cup sugar and beat until mixture begins to pull together into a mass. Add egg replacer, yogurt, and vanilla. Add the flour mixture to this until just combined and briefly knead with your hands to incorporate.

Press the dough into your prepared pan and prick all over with a fork. Bake for about 20-25 minutes or until nicely golden on top. Remove from the oven and cool while you proceed with the topping.

FOR THE TOPPING: (Lemon Curd).

Wash the outer skin of the lemons, dry them off and grate them first. Then juice them.

In the top of a double boiler, add the lemon juice and rind, vegan margarine, sugar and egg substitutes. Stir until the sugar is totally dissolved and continue heating gently for about 20 minutes until the lemon is thick.

If this doesn't thicken up put the vegan gelatin powder in a bowl and add a little of the hot lemon curd to it and stir well, then add it back to the hot curd in the pot and stir until it thickens a little.

Pour on top of the cooled crust and put in the fridge for at least an hour to set. Cover with cling wrap.

Bon Appetit!